online yoga program for 2023.
Welcome to the yoga program that I lead with all my knowledge and love
Online yoga are guided classes that take place according to the schedule via the zoom application, you can follow them from your home in real time or later with a recording. The schedule includes two classes of WakeUp yoga per week, on Tuesdays and Fridays from 8 a.m. and first Sunday of the month, a lecture that deals with the topic of the month and Vinyasa yoga on that topic from 10-11:15 a.m., for all classes I send a recording that is available for a week. Choose an online membership package for yourself. You can join any time of the month, regardless of your previous experience with yoga, contact me to get to know each other.
Yoga topic of the month on online yoga is woven through the regular morning WakeUp yoga classes that month. Topics connect therapeutic yoga with mindfulness and meditative contemplations. Topics for the coming months:
Rhythmical rutine
From Sunday 1.10. – Sunday 5.11.
Good routine is a useful thing, it sets a schedule for duties and free time. Our nervous system likes routine, the body knows when it's time to eat and looks for food around the same time every day. It is the same with time for sleep, work, concentration, exercise and other things. We manage in our routine, it is a familiar, productive terrain. It is important to include yoga in the regular flow of our routine. They say if you don't have 10 minutes to meditate, meditate for an hour.
We will dedicate October to establishing a routine with a morning yoga practice that is repeated, becomes familiar and safe, and gives us a great base for all the daily challenges that come with returning to a schedule with other members of the community. Also if you are a beginner in yoga now is the time to start as will cover some yoga basics.
Topics that we cover in October:
basics of yoga and details of asanas
salutation to the sun
ashtanga yoga base
rhythm of movement repetition
a healthy yoga routine
silence of mind
coherent breathing
meditation for better concentration
affirmations for willpower

---
Inner fire
From Sunday 5.11. – Sunday 3.12.
In November, we warm ourselves with the best power, the inner fire of our belly. In yoga, this does not only mean strengthening the superficial abdominal muscles, but also deep activity of the abdominal cavity. We prepare for yoga jumps, lunges, chaturangas, twists and asanas that connect the strong center. We add a massage of the organs, hands and internal muscles - yoga kriyas for cleansing the body.
We will focus our attention on that part of the body so that they can use the fine muscles of the abdomen better and better. With these exercises, digestion becomes highly functional, and as soon as we metabolize food healthily, we process other problems, relationships, information, etc. more easily.
Topics that we cover in November:
speeding up the digestion
jumps in yoga
asanas for center strength
twisting asanas
massage of the abdominal cavity
uddiyana bandha kriya and kapalabhati
an inexhaustible force field
healthy emotional release
proper eating and chewing

---
Antistress yoga
From Sunday 3.12. – Sunday 31.12.
Yoga practice can relieve anxiety or stress. We practice by choosing to return to the physical aspect of anxiety and feel the flow of that energy through the body. The body always has a tendency to let go, restore balance, strive for health and balance, like everything in nature. With thoughts of fear and identification with difficult emotions, we trap anxiety in our system, and in fact, by fighting for it to pass, we do not let it pass.
With yoga exercises, we work on stretching muscles and creating space that is lost in "anxiety" and stress, and restoring openness and flexibility. We learn to see things from a different, broader perspective and little by little experience experiences more through the body and less through ideas and concepts.
Topics that we cover in December:
stretching asanas
regulation of the nervous system by breathing
increasing lung capacity
light yoga practice
yoga for mental health
mindful yoga
somatic meditation
compassionate attitude
positive affirmations

---
WHAT ARE THE BENEFITS OF ONLINE YOGA?
Request the class theme! A part of the body, an ailment or a concept that you want us to deal with during the yoga class.
You can practice while the class is taking place or later with the recording when it suits you.
You have the privacy of your own home, feel free to turn off the camera and "practice in your pajamas".
You can extend the shavasana, just log out and rest.
You can talk to the teacher before or after class and ask anything you are interested in.
To participate in live online yoga classes, you need to download the Zoom application.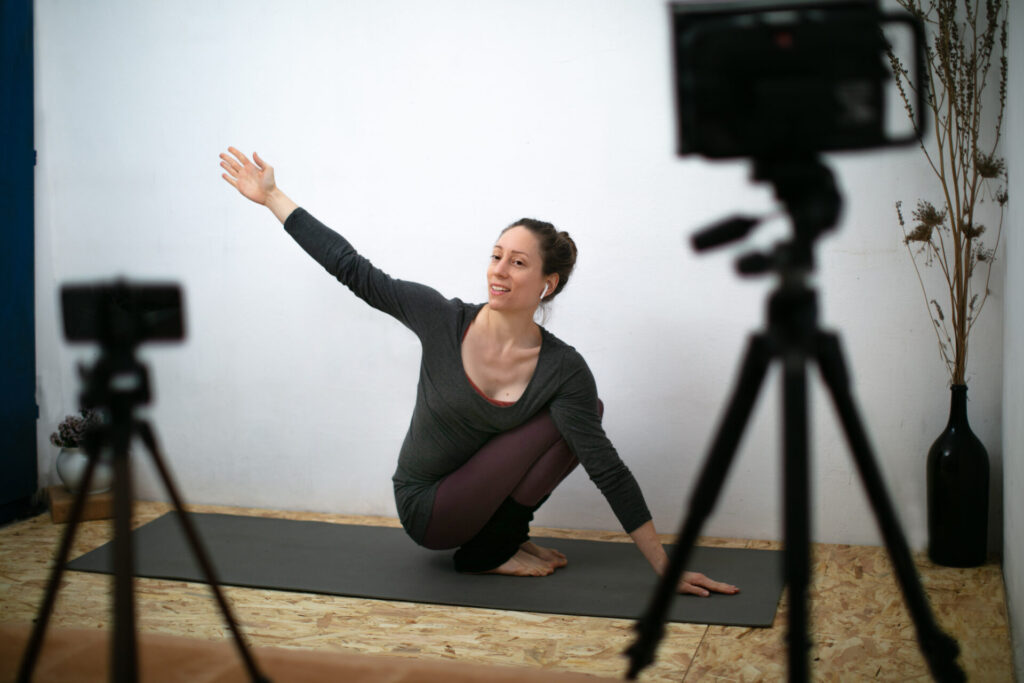 Behind the scene, photo: Stjepan Tafra