Vegemisu
Ima nešto posebno zavodljivo u aromi kave, čak i ako je ne pijemo omami nas miris njezine pripreme. Ponekad je fino okusiti malo tog čarobnog napitka, a tiramisu je savršena prilika jer se kava upotpunjuje sa simfonijom ostalih okusa.
Tradicionalni tiramisu je bezvremenski klasik, a njegova veganska verzija ispunjuje sva očekivanja te donosi novu eleganciju uživanja u desertu.
Tiramisu je kremasti, mekani kolač. Meni kod njega nedostaje "hrskavi element", nešto čime se zubi mogu pozabaviti kada kolač stavimo u usta. Zato sam u ovaj recept dodala komadiće tamne čokolade, ali ako radite za baku možete i bez toga. Također uvijek mi je bilo odbojno da u kolač idu sirova jaja, te puno masnog sira koji može teško pasti na želudac. Veganska je opcija jednako jednostavna za pripremu a nema tih par spornih sastojaka. Da sumiram, ovo je recept za kolač po principu tiramisua, veganski, malo obogaćen čokoladom, na bazi kreme od indijskih oraščića, blago i ugodno sladak a ipak hranjiv i zdrav – super desert za posebne prilike.
Piškote možete uzeti bezglutenske ili pirove, također kod izbora zaslađivača odaberite opciju s kojom se najbolje osjećate.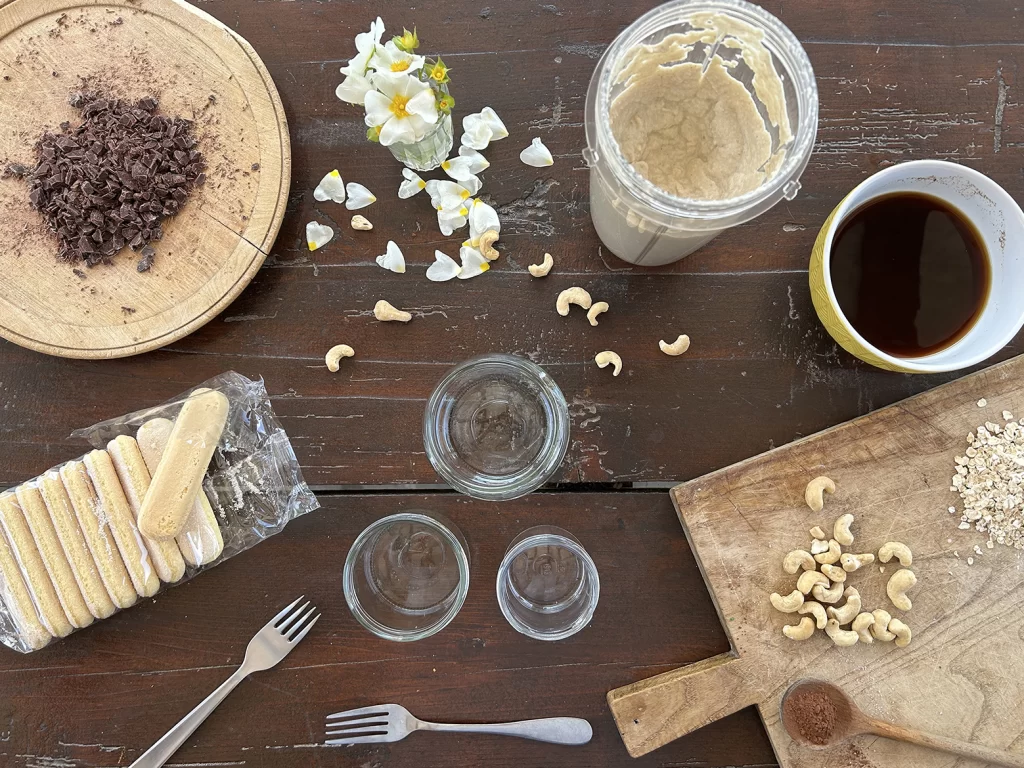 zdravlje u malom oraščiću
Indijski oraščići su mala riznica visoko vrijednih sastojaka (kao i ostali oraščići). Puni su zdravih masnoća, minerala i velike količine bjelančevina. Mogu nas zasitit i vratit energiju pa služe kao mali cjeloviti obrok. Ayurveda ih favorizira jer su puno lakše probavljivi od ostalih oraščića, a još lakše ako ih pripremimo – namočimo ili blago popržimo. Umiruju živčani sustav, dovode osjećaj zadovoljstva i vraćaju snagu. Zadovoljiti će našu potrebu za slatkim svojom slatkom notom i za hrskavim svojom teksturom, pogotovo ako ih suho popržimo. Polako sa dozom ipak su to bombice kalorija, zdravih i zasitnih. Inspiracija sa: Joyfulbelly

SASTOJCI
– šalica zobenih pahuljica
– dvije šalice indijskih oraščića
– tri žlice smeđeg šećera
– žlica rižinog slada
– par kapi limuna
– malo soli
– piškoti
– tamna čokolada
– turska kava bez šećera
– kakao prah

PRIPREMA
Zob i indijske oraščiće namočim preko noći. Oraščiće u posebnu posudu s dosta vode, a zob u šalici samo s toliko vode da je prekrije. Vodu oraščića kod pripreme kolača bacim ali za kremu treba dodati tekućine pa stavim malo obične vode samo kolko je potrebno mikseru da povuće. Za kremu se miksaju zob, oraščići, šećer, sol i slad s par kapi limuna. Naravno dobar mikser je poželjan da krema bude smooth. Što se tiče zaslađivača svi su ok: med, javorov sirup, agavin… Trenutno sam imala smeđi šećer i rižin slad pa sam to stavila. Kod kreme je važno da se radi na hladno, ako se zob zagrije postat će sluzava i ljepljiva a to nije ideja za teksturu ove kreme. Nakon što je krema gotova tiramisu slažem u slojevima: piškote uronjene u kavu, komadići čokolade, krema pa još jednom isto i na vrhu posipam s gorkim kakaom. Ovaj put sam slagala u male staklenke, da bude zabavno jesti ali lakše je naravno složiti u jedan veliki kalup. Prije posluživanja ostavim par sati u frižideru. U slast!