Kao prvo što je namjera? I drugo, zašto ih osvijestiti? Za potrebe ovog teksta idemo ovako definirati: namjera je pokretačka sila. Ako pojam namjere potražimo u prirodi, možemo reći da svaka vlas trave ima namjeru da raste, to je prirodno upisano u njoj. Sve u prirodi ima upisanu svoju prirodnu pokretačku silu, funkciju za rast, razvoj, promjenu i prolazak. Mi smo dio prirode, u našem tijelu svaki organ ima svoju namjeru – funkciju za koju je stvoren, to su namjere koje se odvijaju same po sebi po svojem programu.
No pokretačke sile su i namjere koje možemo osvijestiti i na koje možemo utjecati, na primjer: naši odabiri, znanje, vjerovanja, kultiviranje svojih misli i tijela. Kažem "možemo osvjestiti" jer i one mogu biti ne osvještene te upravljati nama po svojem programu, a što ih više osvijestimo to više imamo šanse odabrati da li želimo na njih reagirati ili ne, a to nam oblikuje život. Zato možemo biti itekako motivirani da osvijestimo iz kojih namjera djelujemo i rasčistimo ih sa sobom.
Imamo namjeru na koju možemo reagirati mislima – kada u neku misao povjerujemo, one na koje možemo reagirati riječima – povjerovanu misao smo izrekli te one na koje možemo reagirati djelom – povjerovali smo misli, izrekli je i proveli u djelo.
Jednostavan primjer: prolazimo gradom i zamiriše nam pecivo, pomislimo da bi ga bilo fino kupiti ako povjerujemo toj misli, toj namjeri, možda ćemo reći prijatelju pokraj nas "čekaj da kupim pecivo" – namjeru smo spravili u govor i na kraju u djelo kada uđemo u pekaru, kupimo ga i pojedemo. U drugom scenariju zamirisalo nam je pecivo i prepoznajemo misao o kupnji no ne reagiramo na nju već nastavljamo razgovor s prijateljem – svjesnoj namjeri, pokretačkoj iskri nismo povjerovali i ona se nije realizirala.
Ovo je primjer koji možemo lako razumjeti ali kad se radi o kompleksnijim situacijama u kojima su namjere obojane emocijama i nesvjesnim uzorcima ponašanja češće ćemo djelovati iz automatizma – što nije ništa drugo nego set ne osvještenih namjera nad kojima nemamo mogućnost izbora. Ponekad se osvjestimo kada smo već u toku nekog djelovanja a ako nismo prepoznali koje misli su nas do toga dovele, znači da nismo osvijestili iskru namjere od početka.
Lakše je prekinuti putanju jedne radnje na nivou misli nego na nivou djelovanja, kada se već cijelo tijelo usmjerilo da nešto realizira. Svjesne ili ne, namjere su one koje nas usmjeravaju, upravljaju našim mislima, riječima i djelima i time čine kao osobu.
Zato je put osvještavanja namjera i onda polako sposobnosti biranja na koje ćemo reagirati a na koje ne pravi put napretka osobe prema zreloj i odgovornoj individui. No biti mudri i djelovati iz pametnih namjera nije lako, ono što se kaže "put do pakla popločan je dobrim namjerama" može biti istina. Hipoteza je – što dublje slojeve svojih namjera osvjestimo manje ćemo grešaka napraviti, drugim riječima što sitnije iskrice osvijestimo to bolje.
To nije jednostavan put ali na sreću danas se nude razne metode kojima si možemo pomoći i osvjestiti iz čega djelujemo već na nivou misli. Za osvještavanje namjera služimo se yogom u kojoj radimo s pomnim sporim pokretima, na primjer Mindful Slow Flow yogom.
Mindful flow je sat yoge u kojem se naglašava osvještavanje tijela, misli a time i namjera. Kada radimo s laganim jednostavnim pokretima lako prepoznamo misao o promjeni položaja i jasno vidimo pokretačku silu te namjere u tijelu, odlučimo je realizirati pa svjesno provedemo pokret od točke A do točke B. Tako, malo po malo sve jasnije nam postaju namjere ne samo kao ideje već i kao impuls tijela.
Potražite Mindful Slow Flow sat Yoge – Put namjere u kojem smo potražiti svoje pokretačke iskre, osvjestiti ih u tijelu i svijesno reagirali na njih. Uz praksu sve lakše prepoznajemo svaku malu, skoro nevidljivu iskru i možemo birati. Uživajte u istraživanju.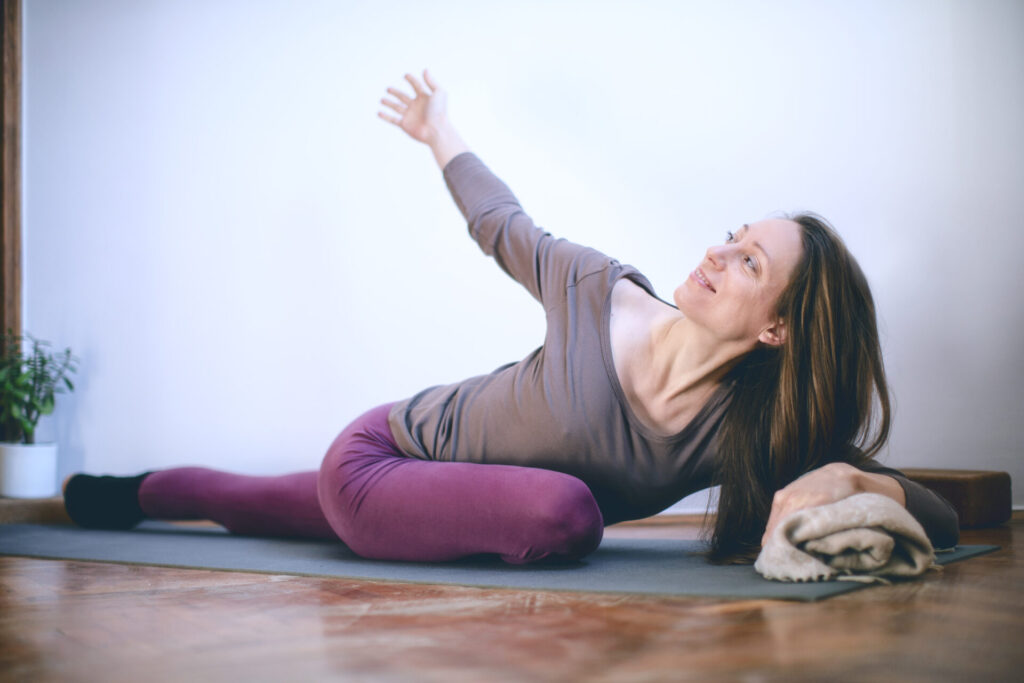 Foto: Stjepan Tafra