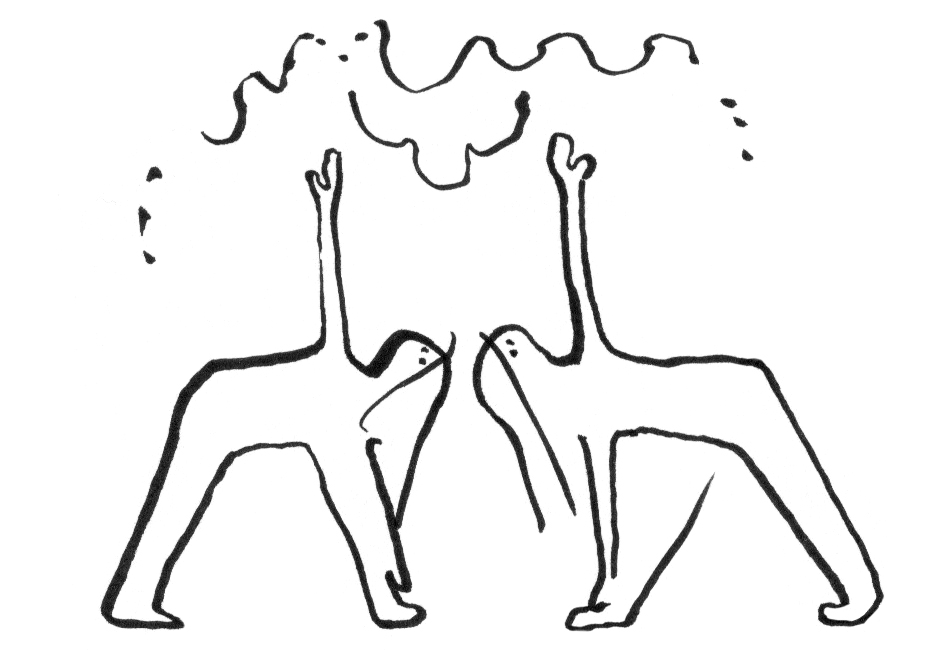 YOGA SAILING – OPEN CONSCIOUSNESS
Yogic practice with an infinite horizon in a marine environment from October 2 – October 7, 2021.
The intention of this trip is to take the time to "look inward and expand the horizon outward" two seemingly opposite concepts that complement each other. Looking inward is getting to know your habits and repetitive states, which we can give a lot of space to in the adventure of sailing and the freedom of the sea, and look at them from a different perspective.
Sailing is contact with nature in an unusual way that stimulates us differently than other environments. In this exceptional experience of the ship, the wind and the sea, we complemented almost every docking with yogic practice, and floating in quiet bays with meditations. We enriched the rocking of the boat in the evening with Yoga Nidra for a deep and quality sleep. After two days at sea, we let go of all the burdens of "everyday life", forgot about land needs and surrendered to the experienced skipper Janko and the sea currents.
The schedule was adaptable from day to day according to the weather and mood of the group, we tried to do dynamic practice, yogic breathing, meditation, walk and eat two nice cooked meals every day.
SCHEDULE:
7.00 – waking up
8:00 a.m. – morning practice of Ashtanga or Vinyasa yoga on the shore, kriyas, meditation and yogic breathing
10.00 – breakfast
10.30 – sailing
10.30 – quiet time, sunbathing, reading, rest
12.00 – arrival in the bay (depending on the plan and day)
12.30 – meditation on the deck
14.00 – lunch on board
15.00 – rest, walking, reading or sailing, depending on the day
18.00 – meditation in the bay or on the deck
19.00 – free time and dinner
20.00 – walk by the sea, according to your choice
21.00 – Yoga nidra
22.00 – hanging out or sleeping
In good company and a yogic atmosphere, we naturally immersed ourselves in moments of silence, moments of laughter, time for reading, sunbathing and just being…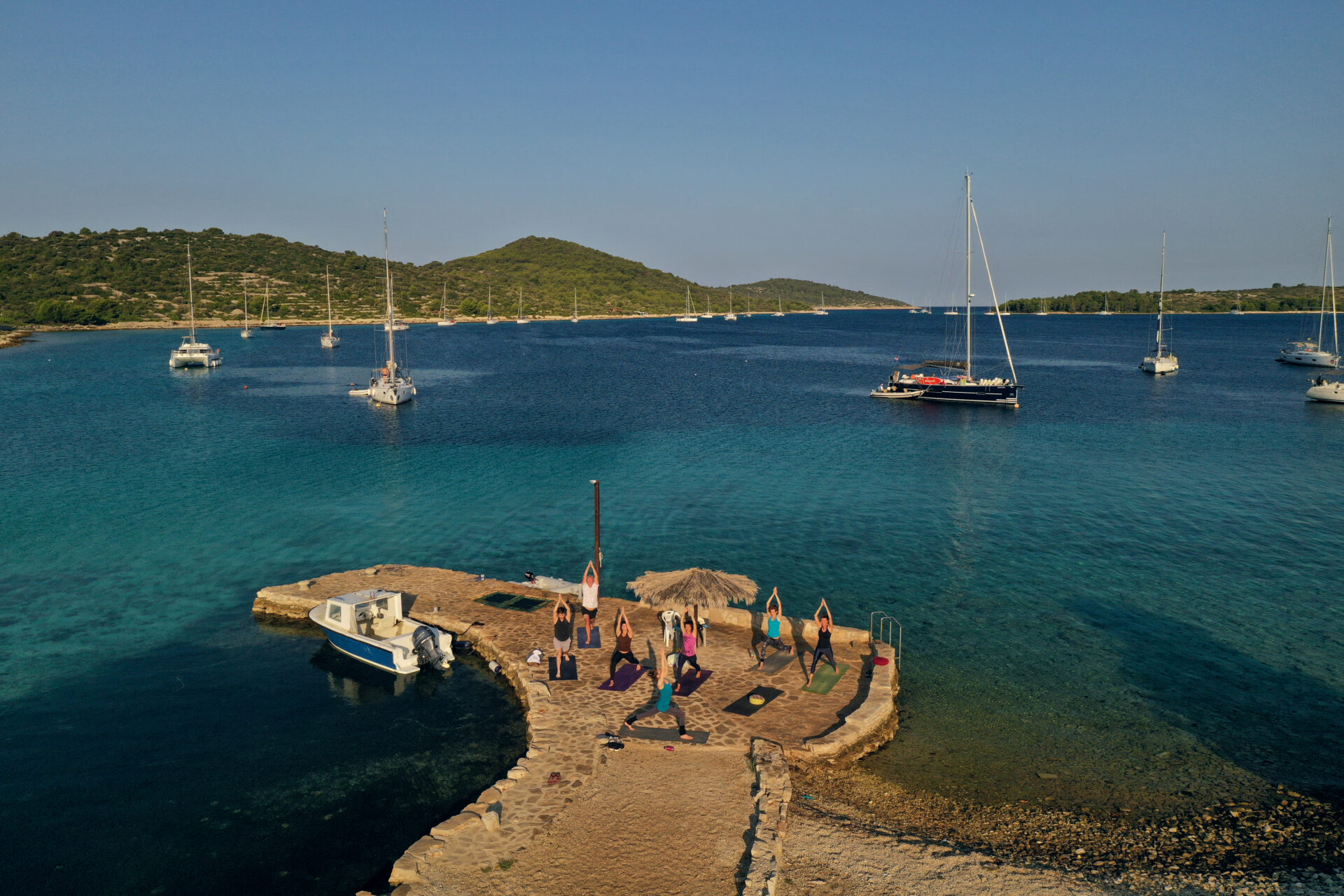 Photo: Carlo Kovačec
---
YOGA WEEK ON BIŠEVO
From 27.8. – 3.9.2021. we connected with the natural beauty of Biševo island in a unique way
We responded with enthusiasm to the invitation to spend 7 days on Biševo as part of the Biševo Island Artist Residency. Finding peace on a small island in the middle of the Adriatic at the end of August sounded like one of the truly rare oases of the "Mediterranean as it once was".
Biševo offered us more than that: untouched nature, beautiful vistas, scents of indigenous plants, the continuous sound of the sea, the flavors of island food, the hospitality of the hosts and new friendships.
Biševo is an ideal place for the practice of deep (noble) silence and contemplation on views of the wilderness, but also on dry stone terraces planted with vineyards and olive groves shaped by diligent human labor. Such an environment in itself invites the true practice of yoga in the sense of connecting body and spirit/breath as our one true nature.
We upgraded it with personal ecology practices by consuming local foods and participating in the construction of drywall. All this encouraged us to think about how deeply and inextricably connected we are with nature and its changes, and how much the community of other beings of which we are an integral part means to us.
A quiet evening spent in a circle of friends filled with sharing deep human experiences and stories was an additional spice of our stay, and we are deeply grateful to them for that.
We are grateful to the host Stjepan Tafra for the open door and help in the organization. Like the other programs in the BIAR residence, we made our contribution to the project by volunteering, working in the garden, on dry grass terraces and cooking.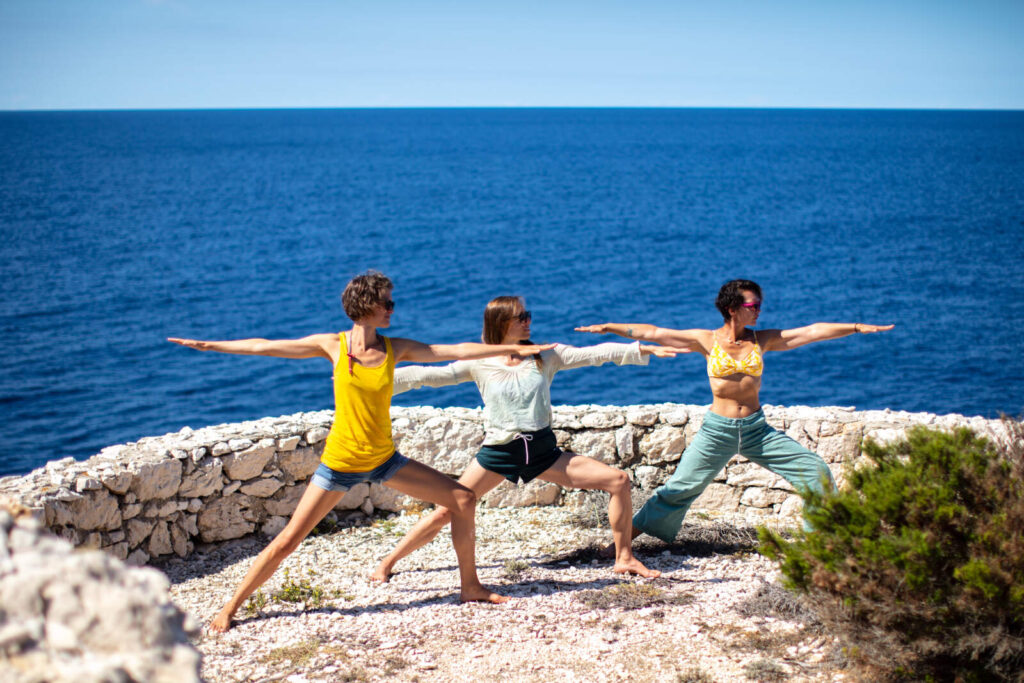 Katarina Luketina, Lada Kraljević i Tena Rebernjak / Photo: Stjepan Tafra
---
PRIVATE YOGA RETREAT
Private yoga retreat for two from May 27 – 30, 2021. on Lošinj
Whether you want to retreat with one or two people, a private retreat offers an intimate atmosphere and targeted practice according to the needs of the participants. At the retreat, we live a yogic lifestyle, we exercise, meditate, do practices to awaken digestion, breathe, be in nature and, of course, cook specialized food according to Ayurvedic principles. This is the type of fellowship in which participants can get numerous benefits and a very personal approach.
RETREAT FEATURES:
To retire means to step away from everyday life, to let go of obligations, jobs, meetings and hustle and bustle. Let's stop and focus on ourselves. Through peace, natural surroundings, good food and the practice of yoga and meditation, we awaken inner strength and ease of living. 🙂
YOGA PRACTICES THAT WE DID:
Ashtanga yoga practice with personal assistance
Mindfulness meditation
Every morning a practice that includes: light stretching, Yogic breathing practice and meditation
Evening Yoga Nidra
Massage (Thai massage with Cranio-Sacral therapy)
Cooking and nutrition according to Ayurvedic principles: vegan meals, plenty of local vegetables, proper combination of foods, seasonal foods, long chewing, Ayurvedic aperitif and digestif for better digestive fire.
REQUIRED FOR RETREAT:
yoga mats, straps and bricks
larger pillows and blankets
a small gong
yoga music
we take healthy food, a menu and an accurate list of ingredients with us
comfortable clothes
ADJUSTABLE SCHEDULE:
7.30 – waking up
8.00 – 9.00 – morning practice, meditation and yogic breathing
9.00 – 9.30 – breakfast preparation
9.30 – breakfast
10.00 – 12.00 – swimming, walking and reading
12.00 – 13.30 – Ashtanga Yoga + meditation
13.30 – lunch preparation
14.30 – lunch
15.00 – 17.00 – rest, walking and reading
17.00 – 17.45 – meditation
18.00 – 19.00 – massage / bathing, walking
19.00 – snack (if needed, fruit, rich shake or light salad)
19.30 – 21.00 – walk by the sea, meditation by the sea and yogic breathing
21.00 – 21.45 – Yoga Nidra with meditation bowl and Koshi bell
The friendly atmosphere and sharing of experience colored the wonderful days we dedicated to ourselves